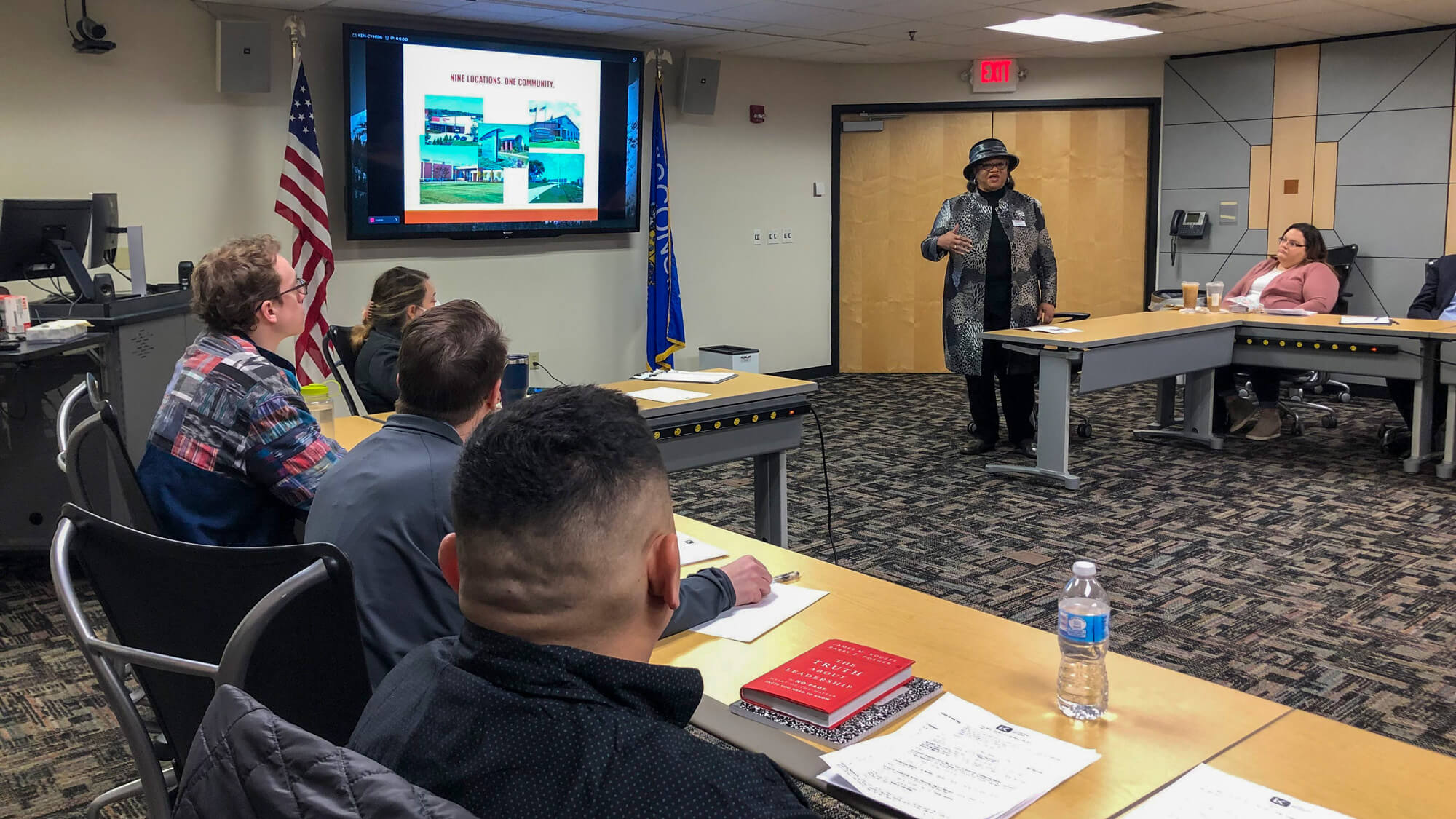 On Wednesday, March 16th, 2022, the Leadership Kenosha class assembled for our "Education Sector" day, at the unique Horizon Campus of Gateway Technical College.  It was a beautiful sunny spring day outside, but we were in for a day of highlights inside as well.
We started the day with our monthly reading discussion.  Bill Bennett did a great job of keeping it lively, yet brief.  He started by playing a short video from the authors of The Truth about Leadership, Kouzes and Posner, discussing the book. It was a great to gain those insights. After some quiz questions and candy prizes, we moved on to our first presentation of the day, by Gateway Technical College Vice President and Provost Zena Haywood.
Zena, who was a member of the very first Leadership Kenosha class, is retiring in August after a long career at Gateway.  She provided a historical overview, statistics on enrollment, class offerings, extracurricular activities and clubs, and the exciting news that through a partnership with the UW System, they will now begin to offer Associate of Arts and Associate of Science degrees.  Zena did a very thorough job of explaining the workforce and vocational training programs offered at the various campuses throughout our region.  They offer 2,500 courses a semester with three semesters a year. Their 70+ different degree and certification programs run a wide gamut and truly show how crucial Gateway is to all facets of workforce development in our community, including nursing and healthcare degrees, manufacturing certificate programs, aeronautics, HVAC, law enforcement and fire safety, automotive and diesel mechanics, and horticulture and urban forestry.  We concluded the presentation with a tour of the Horizon Campus by Dean Tracey Isensee, and saw the automotive and diesel training facilities, and a demonstration of the multi-engine flight simulator.
Our next presentation of the morning was by Building our Future.  Kevin Meager, one of our LK classmates, who serves as the Data Manager at BoF, was joined by their Community Outreach Manager, Brandon Morris.  They gave an overview of the organization's educational initiatives and their mission of "wanting all children to succeed", as well as discussing their over-arching organizational affiliation with the Strive Together Network. We then broke into small groups and conducted a "data walk" activity, showing some of the data metrics used in their work.  It was very impactful.
After a quick break where many of us ran outside to soak in some sunshine, we were briefed on classmate David Capelli's recent trip to Washington D.C. where he heard the Secretary of Transportation and President of the United Sates speak.  David's report then segued into a panel including Mayor John Antaramian, Katherine Marks,Community Outreach Coordinator and Tim Casey, Director of City Development, City of Kenosha and Trina Patterson, UW-Parkside Equity, Diversity, and Inclusion Manager (And another LK grad!), to discuss the Kenosha Innovation Neighborhood.  We learned about the timeline of ground breakings, the financial commitments, and specifics about intended use of the spaces.  The "Live, work, play" concept sounds very appealing, and will be very appealing to a young professional demographic that they hope to grow, attract and retain in the City.  There was also discussion about the Uptown Neighborhood Redevelopment, including the Brown Bank Building being transformed into the Kenosha Emerging Leaders Academy- a place under-served students and parents can access information, educational programing, academic advising, and other services, right in their neighborhood. They plan to open that building later this fall!  Finally, there was an opportunity to ask questions, where our class didn't shy away from the opportunity to ask how the KIN will impact the surrounding neighborhoods, and whether rents will rise to the detriment of the long-standing residents of the area. The healthy debate was settled with various counterpoints, and over all- I think everyone is excited for the Mayor's vision to come to reality.
After lunch we had some time for small group work, and then reconvened for a presentation on Ethical Leadership Core Values, by Lou Molitor, President Emeritus of the Kenosha Area Chamber of Commerce.  We did a couple exercises in defining "ethics" and "values" and then were asked to review a list of values, and determine our top five, and then top one.  Many of us shared our values, and why we chose them.  Lou asked a lot of rhetorical questions regarding what values are important to us as individuals, the values of the organizations we work for, and got us thinking about ways we can lead confidently through ethical dilemmas.  The Ethical Leadership discussion was quickly followed by the 3rd installment of Marvin Bembry's Inclusive Leadership Program.  We discussed the six traits of inclusive leaders, broke into small groups to deep dive on one of the six, and then shared some of the ways we have exercised inclusive leadership since our last meeting.  Finally- we were charged with developing an inclusive leadership plan to tackle a specific goal or opportunity. I personally have a lot of hiring going on at my organization this summer, so will certainly be using this tool to develop a plan!
We finished the day with discussion about graduation in May and looking ahead to our April meeting.  It is unbelievable we only have two months left, but in looking back over all we have learned and been exposed to over the last six months, it is really incredible!
-Haley Treadway