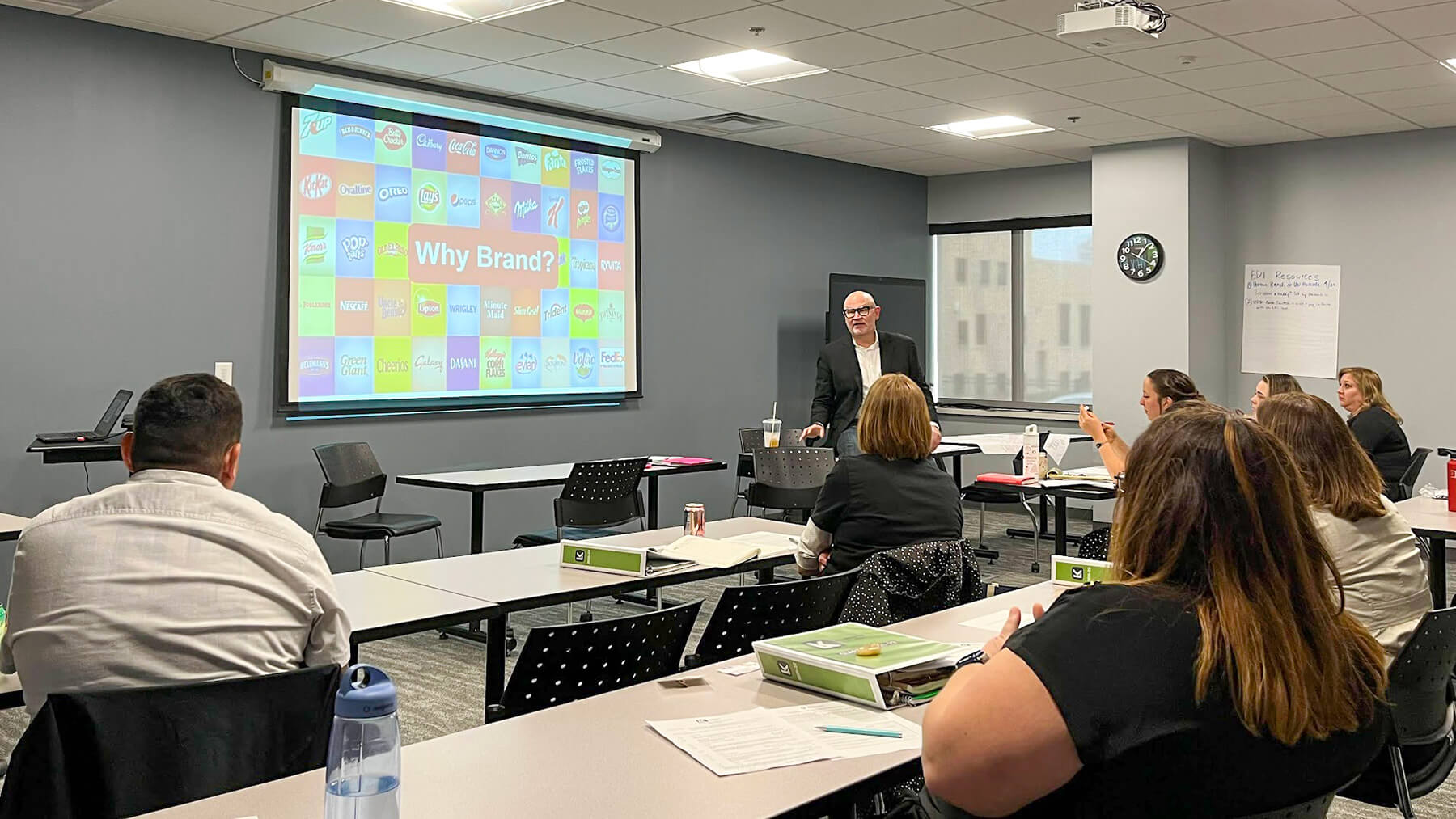 The crocuses were blooming and the robins were singing. It was April in Wisconsin.
The 2022 Leadership Kenosha cohort had the pleasure of returning to Herzing University's Kenosha Campus. The goals of the day were to:
Learn about the role of the public health department, including current challenges
Explore community health and wellness resources
Develop personal and leadership branding based on strengths
Leadership Book Discussion
To begin, as was tradition, Leadership Kenosha (LK) participants opened with an activity to learn about a chapter from the book "The Truth About Leadership" by James Kouzes and Barry Posner. LK participants Hayley Treadway and Amy Macemon facilitated a reflection activity for the final chapter, "Leadership Is An Affair Of The Heart", and to reflect on each of the 10 leadership truths outlined in the book:
Truth 1: You Make A Difference
Truth 2: Credibility Is The Foundation of Leadership
Truth 3: Values Drive Commitment
Truth 4: Focusing On The Future Sets Leaders Apart
Truth 5: You Can't Do It Alone
Truth 6: Trust Rules
Truth 7: Challenge is the Crucible for Greatness
Truth 8: You Either Lead By Example Or You Don't Lead At All
Truth 9: The Best Leaders Are the Best Learners
Truth 10: Leadership Is An Affair Of The Heart
After leading the group through a reflection worksheet, LK participants shared times they've led with heart, leaders they've known that led with heart and one truth they feel they are strong in and one they hope to continue to improve on.
Herzing University Healthcare Program
Next, Erin Ginn, LK '19 and Senior Director of Admissions at Herzing University provided LK participants a warm welcome to Herzing. She shared her experience as a LK grad, stating that LK opened doors for her. Due to her time in LK she now serves on the Shalom Center board of directors and maintains multiple connections created at LK which assist in her current role at Herzing.
She also shared admissions and overarching program information about Herzing's nursing programs. For example, in a year and a half, they have expanded the number of clinical partners from 30 to 120 and increased faculty, allowing for over 680 students to be on campus! Accepting 180 students every 4 months or so, they are proud to say that 95% of their nursing students pass their NCLEX licensing exam upon graduation. They believe this was in part due to their recent increased focus on life coaches for students, which help guide students throughout their time at Herzing. The full-time nursing program is two days a week for three years and provides a starting salary of $65,000/year.
Following Erin, Jennifer Sabin MSN-Ed, RN, CHSE, Nursing Lab & Simulation Coordinator went into detail about program features and shared a special guest, a robot designed as an extremely life-like five-year-old child whose name alternatives based on the scenario he is utlized in. Jennifer demonstrated how the robot can be used in the pediatric simulation lab, which is one of four simulation labs, the others being medical surgery/adults, obstetrics and neuro/mental health. The robot allows students to experience what it would be like to interact with a "real human" as the robot can bleed, mimic various heart/lung movement, secrete bodily fluids, and show emotional reactions such happiness, pain, anxiousness and even seizures. This program feature, among many others, helps to create students that are ready for the job market.
Equity Reflection
Following the Herzing presentation, LK participants reflected on Marvin Bembry's presentations and the "6 Action Steps" for equity. LK participants worked in small groups and discussed what steps they will take to bring equity into their workplace. Then, each group shared what their next steps would be. LK participants shared such ideas as:
Raising their children well so that DEI is a part of the expectation
Commitment to making DEI a priority and not something to be set aside; plan to integrate DEI as a line-item at staff meetings
Join a DEI book club
Build into work process; trainings to be taken year-round, not as a reaction to issue
Jennifer Freiheit, PhD, MCHES Health Officer/Director, Kenosha County Division of Health
Next, Dr. Jen Freiheit gave an enthralling account of her journey in leadership as told through her work and personal experiences. With her start as a high school sex education teacher, Dr. Freiheit's path to being a very respected public health officer was a winding one!
After realizing she wanted more challenge than highschool education, she sought her Masters degree in wellness management. She graduated shortly after 9/11 and was hired as the state bioterrorism educator as there was an excess of funding in that area. However, due to 9/11, there was a heightened urgency for public health workers to be oncall 24 hrs/day which resulted in about half of America's public health workforce to retire!
With that being said, she was interested in moving to "where the rubber meets the road" and wanted a more local position. She then achieved her doctorate, while also raising three kids! She worked for a year in Milwaukee but then took the Health Officer position in Kenosha. She had only three months to build a relationship with her new staff team when COVID began. She threw herself into 80 hour work weeks and much of her staff took on a big increase in weekly hours. While working to create positive work environments and relationships, she was managing an ever growing COVID crisis. Utilizing all the data she could, she guided Kenosha County through the pandemic. She described working through the pandemic as "putting out the same fire in the same building day after day". However, she also stated how grateful she was for the support shown by city and county officials, as it allowed her to quickly respond to latest research and make science-backed decisions which were needed throughout the pandemic.
Despite all the support and the many things going well, she knew her core team of 65 staff, as well as the pandemic-hired 45 additional staff, were starting to burn out and feel disconnected from their leader- her! So, she managed to take a few steps back from COVID-management to ensure her team was given the resources they needed to continue to do their work. As a leader, she knew the importance of sharing stories, being vulnerable but also remaining positive. She was able to rebuild her team's energy and cohesiveness to keep them on the job, despite losing a few staff members.
Jen's story was inspiring and will stick with the LK cohort for years to come (as well as the Kenosha County tote bags and sanitizer she shared with us!).
Her final advice for the LK cohort was:
Find and maintain a peer mentor as well as a more-seasoned mentor
Be connected! If there is a National Association for what you do, join it! Be active on LinkedIn.
Find a hobby/passion (her's is rock collecting and polishing!)
Find a side hustle
Pam Halbach, LK '09 Kenosha Director/WIC Director – Racine Kenosha Community Action Agency
Next, Pam Halbach shared a presentation on the nutrition and wellness resources offered through WIC in Kenosha. WIC is a public health nutrition program which serves approximately 3,500 residents each month, providing over 500 monthly referrals for other services as well. WIC brings $2 million into the community through their thirty three WIC vendors and twenty local farmers.
WIC provides services such as breastfeeding peer counseling, WIC Farmers Market Nutrition Program, FIT families program, Kenosha Senior Veggie Vouches, housing, weatherization, Skills Enhancement Program and a variety of digital resources such as recipe videos, eWIC and the WIC app.
Lunch and Project Work Time
Following the WIC presentation, LK participants were served lunch and given time to work on their projects before presenting at the final LK in May.
H Muir, Consultant: Personal and Leadership Branding
The last presentation of the day was oozing with inspiration and energy! H. Muir encouraged each member of the LK cohort to analyze and determine their "leadership brand". Each person's leadership brand was to be informed by their recently completed "StrengthsFinders'' top five strengths. H. shared that our leadership brand can be utilized as a strategic map, providing us with clarity, confidence, differentiation and direction in our leadership goals and careers.
For an opening activity, H. had us pair up and share "who we are as a leader". Sounds easy, right? For many, it was not. However, after his afternoon session, we completed this activity again and each of us had a better idea of our strengths and how we can build off of those as leaders.
H. then broke down our LK cohorts strengths. In total, there were 75 reported strengths which fell into the following categories:
36% in Relationship Building
16% in Influencing
21% in Strategic Thinking
27% in Execution
Are you thinking, what does that even mean? Take some time to explore the StrengthsFinder tool to learn more!
He shared that being successful isn't about being well-rounded but about playing to your strengths and to creating a team that is well-rounded. He also shared the importance of leaders completing reflective development, where one takes time to reflect on completed tasks. Additionally, he shared the power of asking interrogatory statements such as "Am I going to do well?" or "Did I practice enough?" as those statements require us to engage in reflective thinking.
Overall, H. left the LK cohort feeling energized and excited to continue their journey as leaders!
Tamarra Coleman, Shalom Center and LK19 and David Strash, Kenosha Area Chamber of Commerce: Program Evaluation with LK Steering Committee Chair
To wrap up the day, Tamarra and David facilitated an evaluation of the '22 LK program. They encouraged honest feedback about the highlights as well as areas where the program could improve.
— Amy Macemon