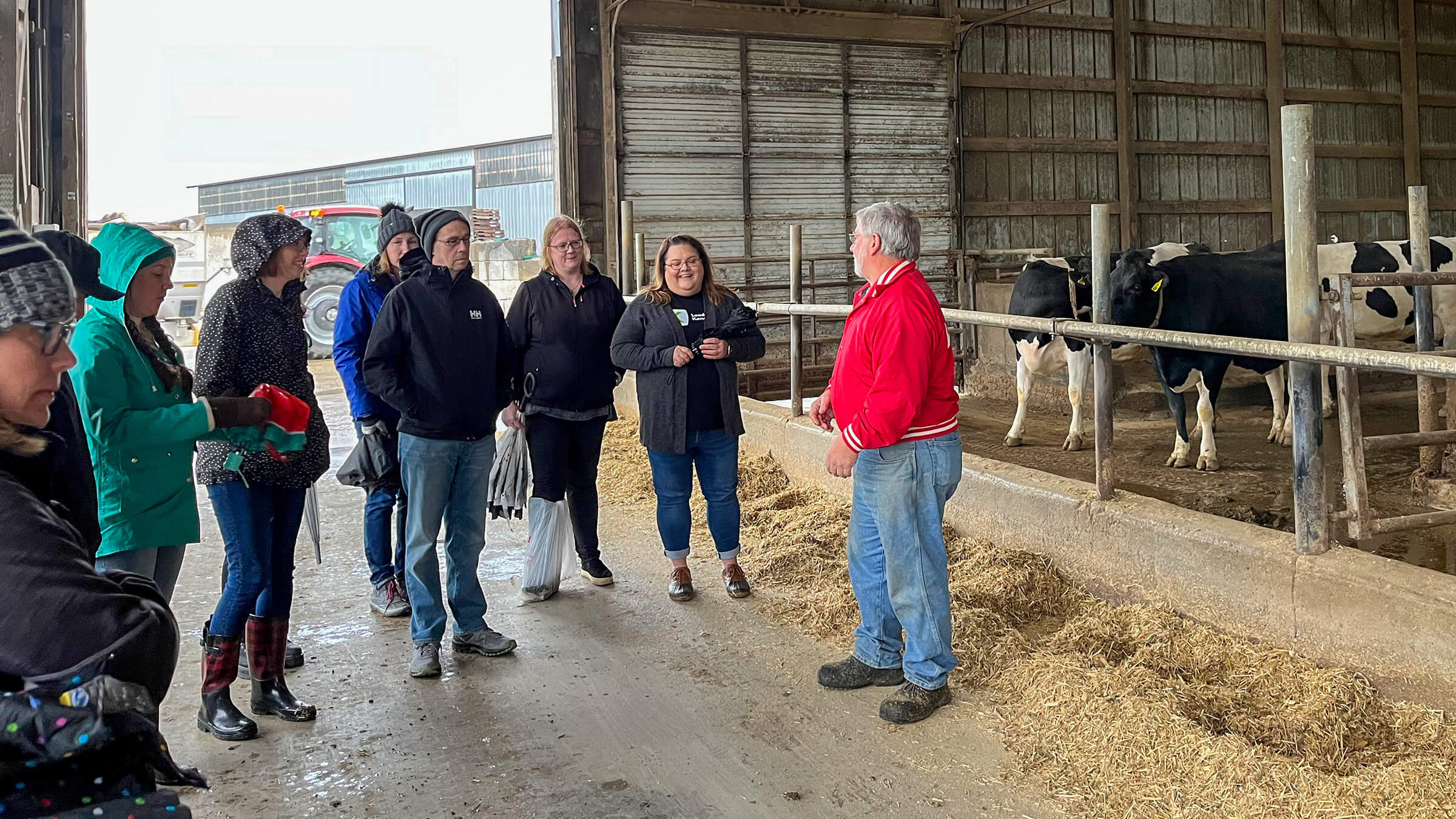 May 18th marked the final program day for the Leadership Kenosha class of 2022. Though it wasn't the beautiful spring day we had hoped for, the cooler temperatures and rain did not stop us from having one of our most fun and educational days so far. For our agriculture, county development and planning themed day, we started at Mighty Grand Dairy, a multi-family-owned dairy farm in Union Grove co-owned by Dave Daniels, our host for the tour.
Despite being in his family for generations, Mighty Grand Dairy is not your grandfather's farm. Pulling into the farm lot, it's impossible to miss the acre of land occupied by rows of solar panels, which provide nearly 80% of the farm's energy. This is only part of the farm's modern approach to dairy though. Their dairy cows are monitored with "Fitbits" to track their movements and other health indicators. The calves drink from automated milking stations which hook up to computers that monitor the pace at which they drink as well as other data. This is not to say that the farm is without its traditional charms though. Dave also relies on instinct and experience to tell when a calf isn't feeling well, and our class was delighted to stumble across a litter of newborn kittens sleeping with their mother.
Cats also made an appearance at our next stop for the day, Brightonwoods Orchard in Burlington. Bill Stone, the co-owner was gracious enough to give us a tour of the family-owned orchard and AEppelTreow Winery, a small-batch hard cider and spirits distillery on the property. Stone, with his encyclopedic knowledge of apples, walked us through the cider making process, the orchard business, and the history of apples. A former doctor, Stone joined his wife's family business in 1997 when he took an early retirement to pursue a labor of love in the orchard business. At the end of the tour, Stone shared fresh cider samples with the group, and they did not disappoint!
Our last stop of the morning was the Kenosha County Center in Bristol, where we met with county employees Mark Jenks and Andy Buehler. Jenks, Kenosha County's Conservationist, discussed the role of the agricultural industry and its importance to both the state and local economy. With 1/3 of Wisconsin's land being occupied by farms and Kenosha County's agriculture business creating $352 million in economic activity, the weight of these industries cannot be overlooked. However, concerns over where the next generation of farmers will come from combined with pressure from developers to buy farmland, leaves Wisconsin's agriculture industry at a crossroads.
Fortunately, this is where Andy Buehler comes in. As Director of Planning and Development for Kenosha County, part of Andy's role is to balance the need for development with the need for conservation. Andy shared with us the importance of planning and the complexities of the system that must be considered when looking 10-20 years down the line. Essentially, development doesn't happen in a vacuum and the ripple effects of adding more industry touches nearly every aspect of a community system in one way or another.
Our day ended with our highly anticipated group project presentations. Despite a tension in the air, the spirit of competition was good-natured and fun. Each of the four teams presented their work in partnership with a local non-profit to a panel of three judges from the Leadership Kenosha steering committee. We learned about the work team KAM did to increase awareness and engagement with American Legion Post #21 among younger veterans. We learned about the work team Kommited to Kenosha did to plan a financial campaign to support the Shalom Center's 40th anniversary. We learned about the work team Kommon Vision did to identify best practices and recommendations for strategies to ensure the Sharing Center focused on equitable practices to serve ALL residents of Kenosha. And, we learned about the work team Leaders and Dreamers did to develop a framework to increase donations from small businesses for the United Way through their Live United 365 and #IPledge programs.
To close out the day, we reflected as a group on the end of a great 9-month leadership cohort in which we developed camaraderie, leadership skills and a better understanding of Kenosha County. While many of us were sad at the finale of the program, we all walked away with new leadership tools, stronger connections and/or a greater appreciation for the community where we work, live and play.