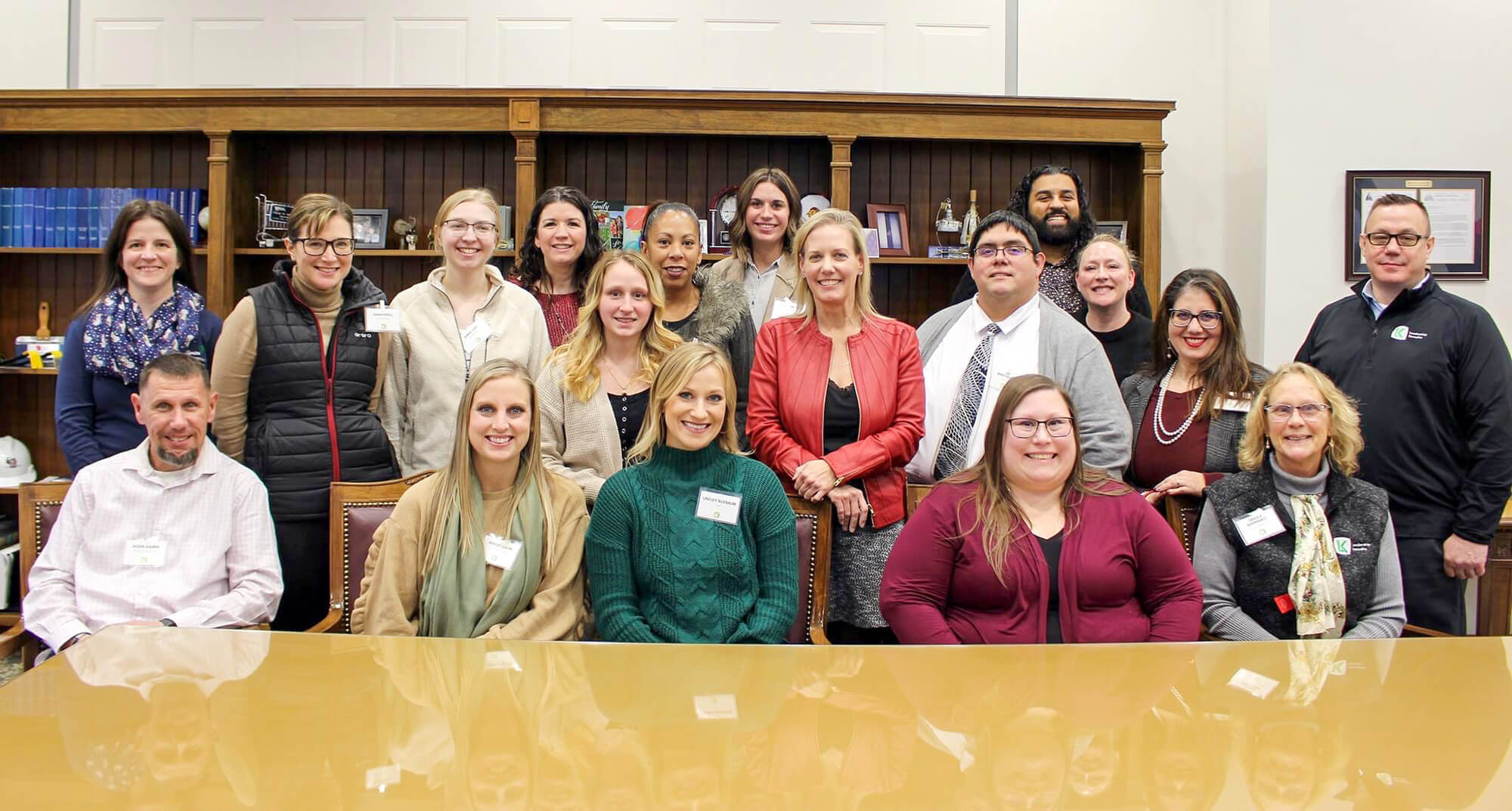 Our Leadership Kenosha cohort spent the day in the Kenosha County Administration building. Joe Potente, Kenosha County Communications Manager, welcomed our group to the Kenosha County Board chambers and started the morning by sharing a little about the building's varied history as a former moose lodge and even a roller rink!
Mr. Potente continued with an overview of the Kenosha County Board. He explained the role of key players like the chairperson, the county executive, the county clerk and the county treasurer, as well as the services of the county, including workforce development, children and family services, the medical examiner's office, the sheriff's department and the public works department.
Following this good introduction, we heard from a panel of local elected officials; Gabe Nudo, Chairperson of the Kenosha County Board, Jack Rose, Alderperson for the 15th district in Kenosha, George Stoner, President of the Village of Somers Board and Susan Crane, Chairperson for the Town of Brighton. Each elected official shared their experience with public life, with insights into their time campaigning, their passion for their community, and what we as citizens can do to become involved or to consider public service ourselves.
Our class had the opportunity to have lunch with the new County Executive, Samantha Kerkman, who shared her story of public service from the halls of the State legislature to serving Kenosha more locally. County Executive Kerkman gave our class insights from her unique perspective of having served both at the state and county level. She shared how much more direct her current role is-- with a clear impact at a very immediate level.
In the afternoon Doug LaBelle, of LaBelle Training LLC gave a talk on bringing the best out in your team. He helped our class to think about the importance of contribution from all team members, looking for ways to partner and work together that allow all sides to come out ahead and the importance of a positive perspective.
Following our busy day, we gathered in our teams and reflected on the day and the next session. Overall, we had a very meaningful look into the role of county/city/village/town government and the ways that we can get involved!
—Dana Kroll
Posted on
December 22, 2022