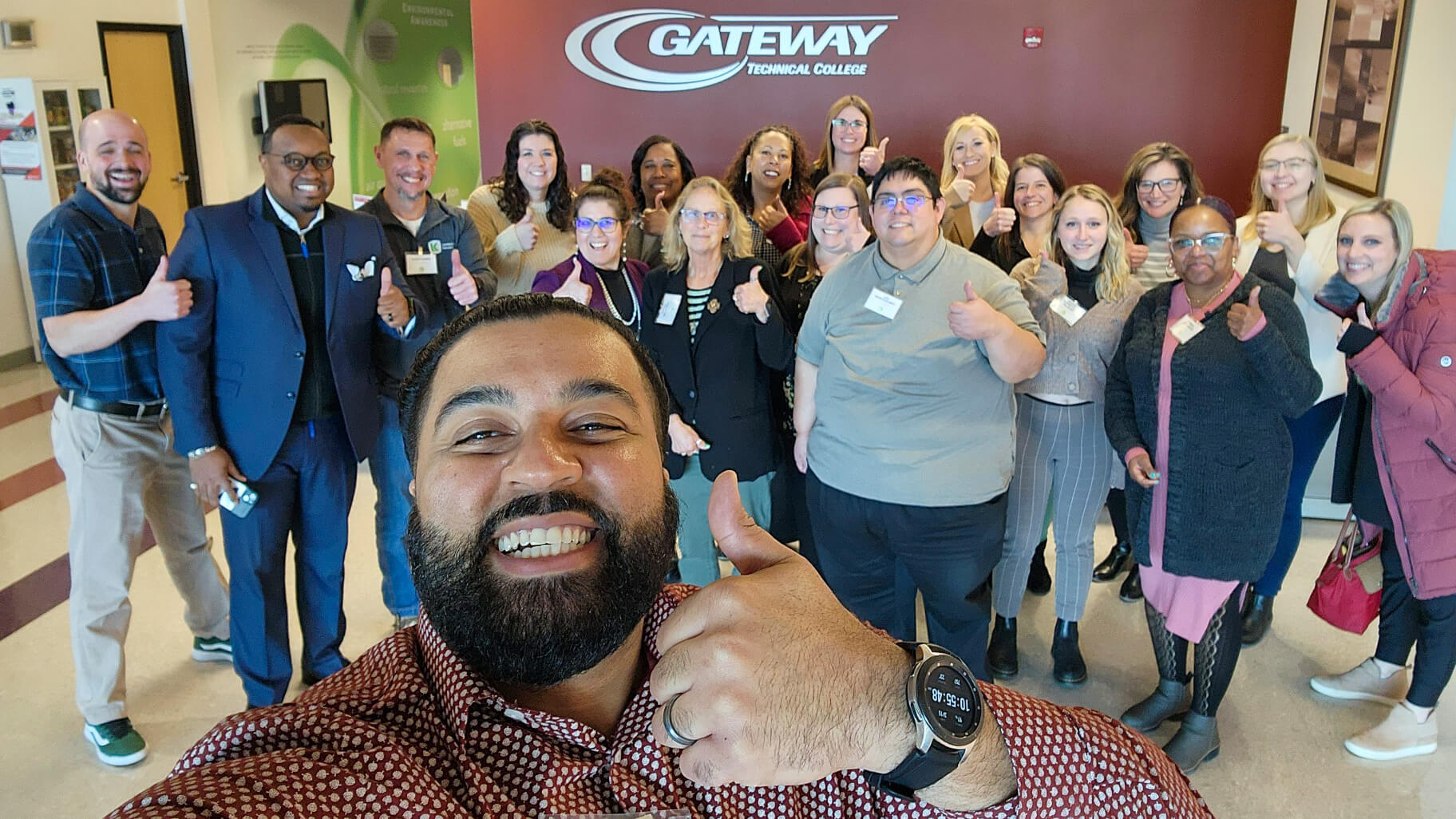 The Leadership Kenosha cohort had the opportunity to spend the day at Gateway Horizon Center for the March session focused on the education sector in Kenosha. We were greeted by Dr. John Thibodeau, Gateway's chief academic officer who was able to share a bit of Gateway's history with us. We also were given a tour of the automotive and diesel work area as well as the aeronautic division.
The second half of our morning was spent going on a "data walk" followed by a presentation from Building Our Future. Kevin Meagher and Lawrence Kirby spoke with us about the importance of gathering data on proficiency in our school district throughout grade school. With the data they are working to gather, they can present this information to the school district to get a better idea of how to help positively impact the children in our community. We spoke about collective impact, the formula in which we can create these positive outcomes. Our group was very interested in the steep declines in performance for math and reading during the 2019-2020 and 2020-2021 school years and the impact COVID-19 may have made. We were also happy to see a hefty increase in performance in the following year.
After our data walk, we got a chance to speak with Dr. Jeffrey Weiss, the new Superintendent of Schools for KUSD. Although he only started in October, he has already gotten the chance to stop at all 43 schools in the district. We got to talk about Dr. Weiss' previous experience as a superintendent and the successes he had before coming to work for our school district as well as his upcoming plans to serve Kenosha in his new role.
The remainder of the day was spent going over personal and leadership branding with a crowd favorite H. Muir. Our group was instructed to take a personality assessment called the CliftonStrengths assessment. The assessment assigned us the top five strengths we utilize to be leaders in our organizations. With the results, H. lead us through a leadership branding session to help us learn what these strengths mean to us and how we can rely on our strengths to build confidence and inspire our teams. We all enjoyed learning about ourselves and creating our own personal brand.
We briefly reflected on the session to close out the day and continued our planning for our group projects. Overall, we got a new viewpoint on the leadership representation in the Kenosha community's education sector and had fun reflecting on our own representation in our respective roles.
—Maren Hoferitza Palermo